Is the summer half gone or is there half left? I haven't technically done the math but I feel it dwindling away while luxuriating in the thick tangle of it. Most of our summer has been spent unapologetically wasting our time at our swim club.
Yesterday I invited my sister-in-law and her 1 year old son for the first time. At 10:30 am she arrived at the baby pool along with several dozen other families. A mere 10 minutes later the baby pool had to be
evacuated.
There was something in the pool and it wasn't a Baby Ruth.
A tennis ball size sphere o' poo was plopped by the side of the pool next to a discarded bathing suit. A naked toddler frolicked happily in the water. The lifeguard was commanding
"Everyone out of pool!"
The entire baby pool shut down for 3 hours. People had to pack up and leave because little ones in swimmie diapers are not permitted in the "big pool." That little child and her big fat poop ruined a whole bunch of mornings.
Oh, and by the way, the naked frolicking child was mine. As was, by default, her poop.
Motherhood is so
humiliating
humbling.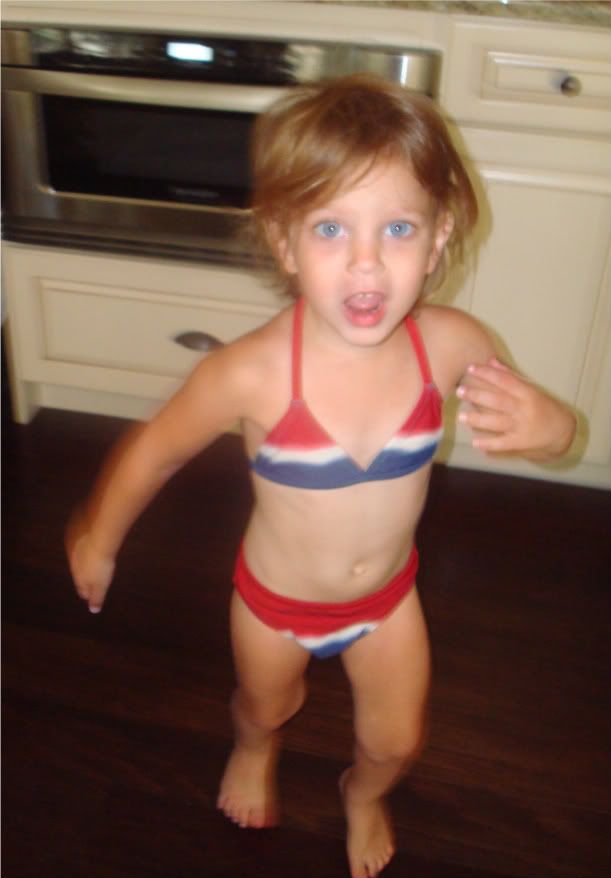 Here's the whirling dervish prior to the incident...just brewing up trouble before even leaving the house.
Is there a silver lining? Well, it makes a funny story. I can blackmail Rella, holding this over her head for life. Everyone at the pool was very nice... though they were probably totally annoyed inside. Or, maybe not. Maybe they knew it could have been anyone's kid. One dad was so nice he offered to jump in and poop in there himself if it would make me feel better.
I said it would. Alas, it was one more empty promise. It all sounds kinda creepy/gross/inappropriate now, but it was funny if you were there. Although I'm sure you're glad you weren't.
Thankfully, humor is always a sanity saver. Without humor, I'm not sure how any of us could muddle through.
Another coping strategy?
Girls Nights Out
. My husband is truly my best friend, but nothing can compare to my nights at the NWBC (Notoriously Wild Book Club) or even a 2 hour chat with my friend H on the phone. Coincidentally enough, I've had 2 Girls Nights Out in a row. One night celebrating with old friends for a 40th birthday bash. One night making new friends at a restaurant with 10 bottles of wine on the table between 8 women. The Universe must have known I needed a double dose of "girl time."
I love these nights. I love the stories we share. The big and the small. The silly and the sad. The ups and the downs. The inane and the life-altering. To see us all out of "mommy mode" and letting the filter come off. And the laughter, laughter, laughter. That, washed down with a glass of wine or an icy cold beer, really is the best medicine.
I arrived home before midnight and, with a bit of help from the wine, fell right asleep. Unfortunately, at 12:30, CB had a grand mal seizure lasting about 3 minutes. Her leg was banging up against our shared bedroom wall, or else we wouldn't have known. I wonder how many nocturnal seizures we have missed, hearing only those where she is knocked out of bed or bashing her head against the metal bedposts.
She woke up again at 1:30 am disoriented, turning on the kitchen sink and stumbling into walls. Fortunately she wasn't agitated and running around screaming like some other nights. Those nights are heart-wrenching.
I suppose not everything in life can be tackled with humor. But it was good to have a few moments of freedom and laughter before the things that can't be laughed away remind you that life is a perpetual ying and yang... joy and sorrow... happy and solemn... carefree and sobering. It all needs to co-exist in some semblance of harmony. Creating the soundtrack of your life. Accompanying you as long as your heart beats the rhythm.
I hear my symphony playing; in the trill of laughter by an evacuated pool, in the clink of the glasses at a table of friends, in the quiet room of a convulsing child. Even if I don't love every song that is played, I
do
know that while life may hand you your sheet music, you always have the choice of how you want to play the notes.