In addition to the regular business of the weekend, I had a little bit of excitement with my participation in the Philadelphia Broad Street 10-Miler. This was the longest distance I've ever run in my life. And, just as an aside, I only started running about 10 months ago at the age of ... *cough cough*... um, at a very seasoned age.
There are many different types of runners - there are those who have a deep inner competition, always looking to improve their times. There are those who are race junkies, loving to sign up for race after race because of the energy of competing. There are those who get a charge out of "training" for something because it inspires and motivates them. There are those who run in order to "eat what they want." There are those who want a challenge; to cross a "big race" off of their bucket list and then kinda drop it afterwards. Then, there are those who have running in their blood and it's always part of their lifestyle, their identity.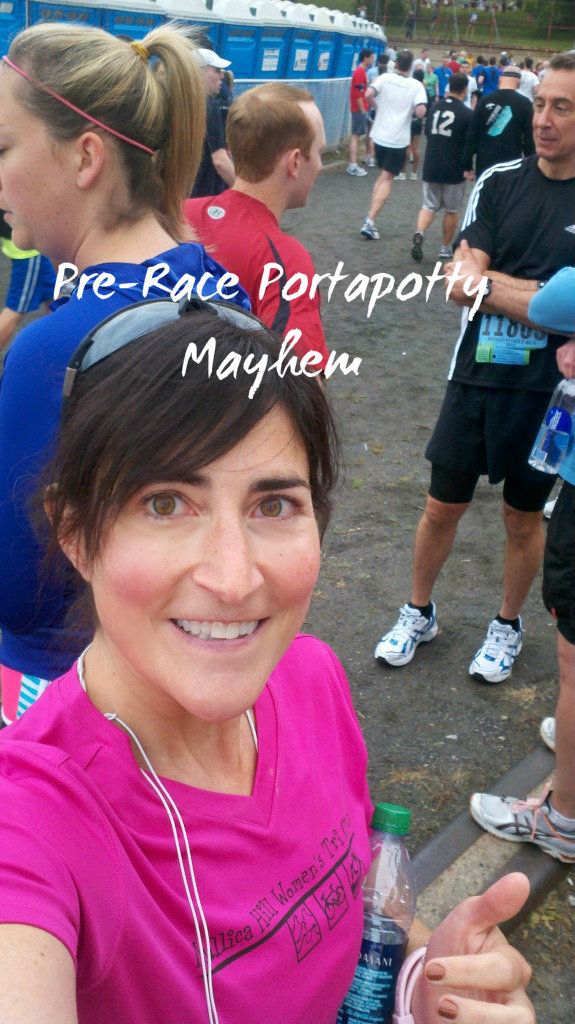 Pre-run at 7:45 am... hitting the insanity of the portapotty lines.
I don't know what kind of runner I am. My relationship with running is definitely a love-hate relationship. I'm oddly addicted yet have times where I loathe it. I'm not competitive with anyone else but I like trying to improve my own times or else I feel kinda bored. Socializing is certainly a factor in participating in the "races" because so many of my friends do them. I'm pretty sure I would not sign up for them if I wasn't doing it in a group and feeling the excitement and enthusiasm of so many women I know and enjoy spending time with. I actually am not a big "race" person, probably because I have such bad childhood experiences running on an elite cross-country team and being the worst one there. Races meant I'd come in last, and when you're 10-12 years old, you don't have the perspective that you're a little fish in a big pond and should feel stoked that you're running with people going on to the Olympics and sh*t.... you just feel like a big old loser.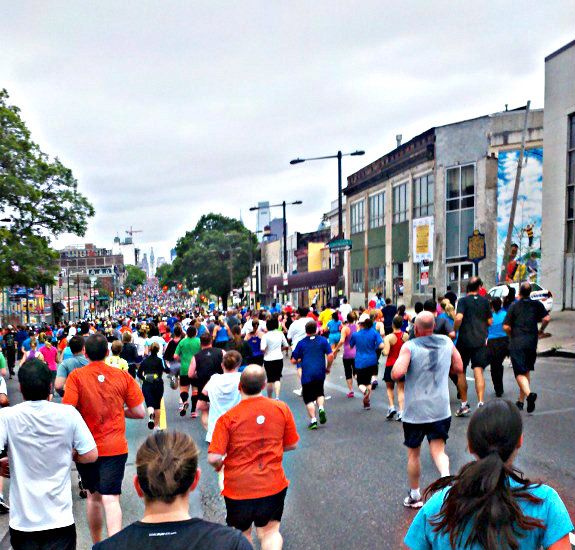 A wall of people extending to the horizon, as far as the eye can see. Such an incredible, breathtaking sight.
I had such a good run. I felt good. I had a smile on my face the whole time. There was SO much energy and support in the crowds lining the streets... you couldn't go a half mile without pockets of people cheering and street musicians jamming. I never felt like I was going to die, never cramped, felt no pain or discomfort.
I mean, by mile 8 I definitely started to feel the lactic acid in my legs. My feet were numbed by miles of incessant pounding, and my body was starting to feel spent as it should after running an hour straight. I felt my body just physically slowing down. But, I started thinking about all the people around me with their stories to tell. Their motivations for running. We were all out here for something, to
prove something
to ourselves. When I started fading a bit I reminded myself there were only 2 measly miles to go and I tried to think of something to encourage me. Running is mostly mental.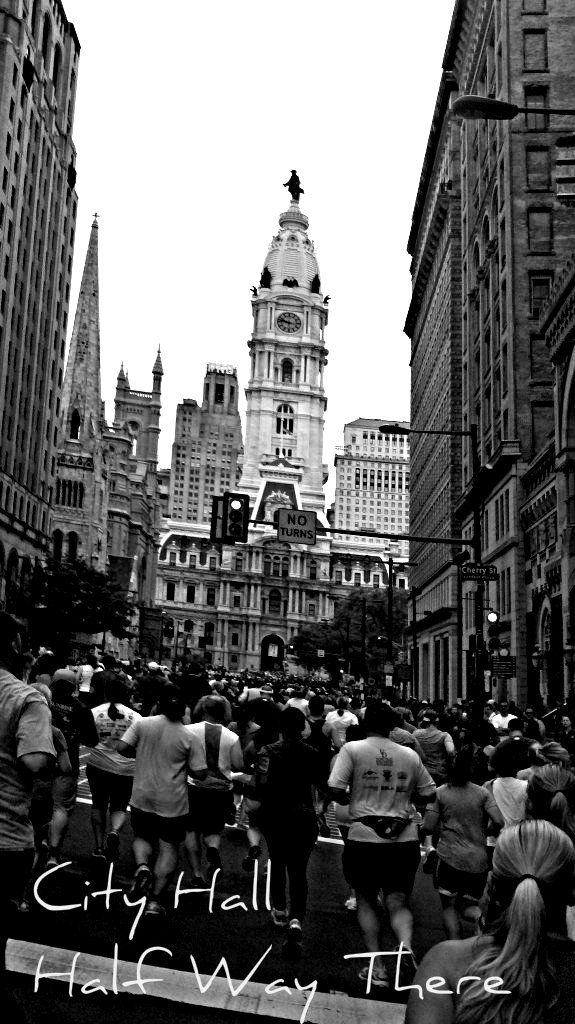 So, I thought about CB though I don't know why. I just thought about how if she were a regular teenager that maybe she'd be here running next to me. Of course, maybe she'd have no interest in running but I pictured her running beside me and it almost became so real that my eyes got all teary and I started to pick up my pace. CB has nothing to do with running or Broad Street, but in a weird way I was running because
she can't.
Not that it makes any sense anyway, but at the time it did.
My
body can move when others have bodies that are challenged. I never want to take that for granted.
Despite hitting the portapotty before hand, all that hydrating and nerves resulted in me having to pee again when standing in my starting corral but the portapotty situation was beyond heinous so I just decided to do the entire run with a full bladder. Between mile 8 and the finish line, I basically couldn't help but slowly piss myself which is way too much information to put out there... but whatever. It's truth.
I think needing to pee made me run faster because I kept picturing the end of the race with a golden toilet just waiting for me.
Anyway, I wanted to run between a 1:35:00 and a 1:40:00 and I ran a 1:35:58 (a pace of about 9 minutes 33 seconds per mile) so I was really proud of myself especially because it was a GOOD 1:35, aside from peeing myself, and though I was starving and exhausted at the end of the race my body felt good. My
soul
felt good. Out of 33,982 finishers (apparently hundreds didn't finish in the time limit that was set in order to open the streets again) I was in the top 40% which is better than my usual results of exactly 50%... I am pathologically average at everything - but not THIS time! Okay, okay, it's nothing to write home about and most of my friends kicked my arse, but I am pretty freakin' proud of myself.
I don't know what type of runner I am, or what truly motivates me or even if I like it or will keep doing it. What I
do
know is that when I was running Broad Street with 40,000 runners I never felt so strong in my life. I mean,
physically
strong. Powerful. A
force.
Dr. Fabulous was sitting on the back stoop when I arrived home with a big smile on his face because he had been receiving the texts from the chip in my bib number and knew what my times were at the various mile markers. He knew I did well, for me. He was proud
and it made me happy.
And the rest of the day I thought about how I just ran 10 miles
and it made me happy
.
And Monday morning as I took Rella to dance class and ran errands I thought to myself " I just ran 10 miles yesterday" and wasn't even that sore (just a bit tight and tired)
and it made me happy.
But, make no mistake. I'm so flippin' glad I'm done training for this thing.