The Jersey weather has been spectacularly warm this Fall. So much so, that aside from the crazy back-to-school and sports schedules it has not really felt "Fall-ish" (and yes, I made up that word if you can't tell). I won't complain - I loathe the cold. But I am ready to put on my boots, curl up with a pumpkin spiced chai latte or some of our local winery's warm mulled apple wine and smell the crisp autumn day in my children's hair when they come inside from a bike ride.
The leaves are just now starting to turn, ever so slowly. Halloween is sneaking up on me, and my house is not yet decorated... my seasonal decorations a la Target are stored somewhere in my dusty basement. It's on my list, but I keep thinking there's time. Like we're not mid-way through October because my God we CAN'T be.
I'm trying to remember to "get into the spirit of the season" even though life is racing by 100 miles an hour (yeah, still) and we've logged in a bunch of 70 to 80 degree days. I had my pumpkin spiced chai as I ran from point A to point B frantic and crunched for time. I moved my flip flops to the back of the closet and even though it's not cold enough for fur-lined boots, it's the principle.
I also went apple picking with Rella's class trip.
Notice her shorts. Although she was wearing them with boots.
Somewhere, some day, we'll get that friggin' pumpkin too. And I'll drink my warm apple wine curled up in a blanket on our balcony under the stars. Hopefully. I just want to slow it all down. Yet, if I really think about it, TIME doesn't go any faster or slower any one day versus another. Like most things, time is simply
perception
and to know this means I am in ultimate control over its speed... or its perceived speed.
I really need to downshift. If, like, that's even the right term. I should know better than to use car-lingo.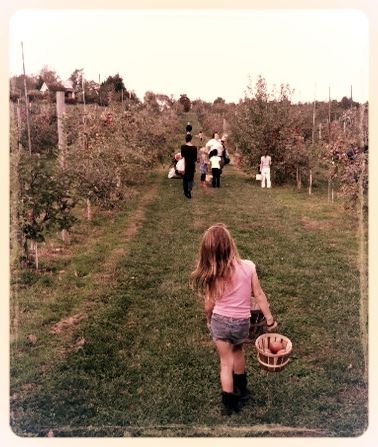 Anyway....
I have this great new Halloween decoration for my home - Pink's painting from her weekly art class. So cute. It's going over the mantel.
When I finally get around to decorating.