I am a Summer Girl at heart, but I have to admit that after a few months of Jersey heat and humidity I'm ready for some crisp, cool weather. I'm ready for Fall.
While part of me always mourns the passing of my summer days, part of me is ready for the buzz of all that Fall brings; pumpkins and hot chocolate, the smell of burning leaves, open air farmers markets displaying dried corn stalks and gnarled giant squash, hot soups for dinner and making fires in our large stone hearth on a brisk night.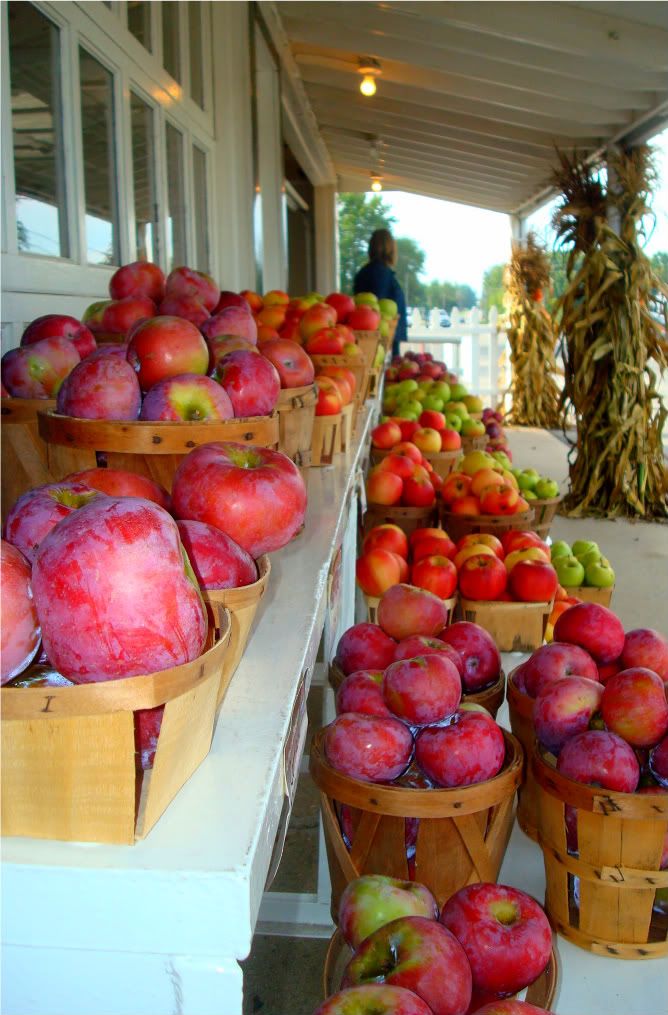 I love picking out Halloween costumes for the kids because their excitment is palpable, carving jack-o-lanterns, baking pumpkin seeds and dipping carmel apples. I'm eager to trade my frosty evening beer for a glass of cabernet (yes, my drinks change seasons just like my waredrobe and the foliage) and switch my mid-day iced coffees for a nice warm cup of steaming Joe cradled between my palms in the afternoon.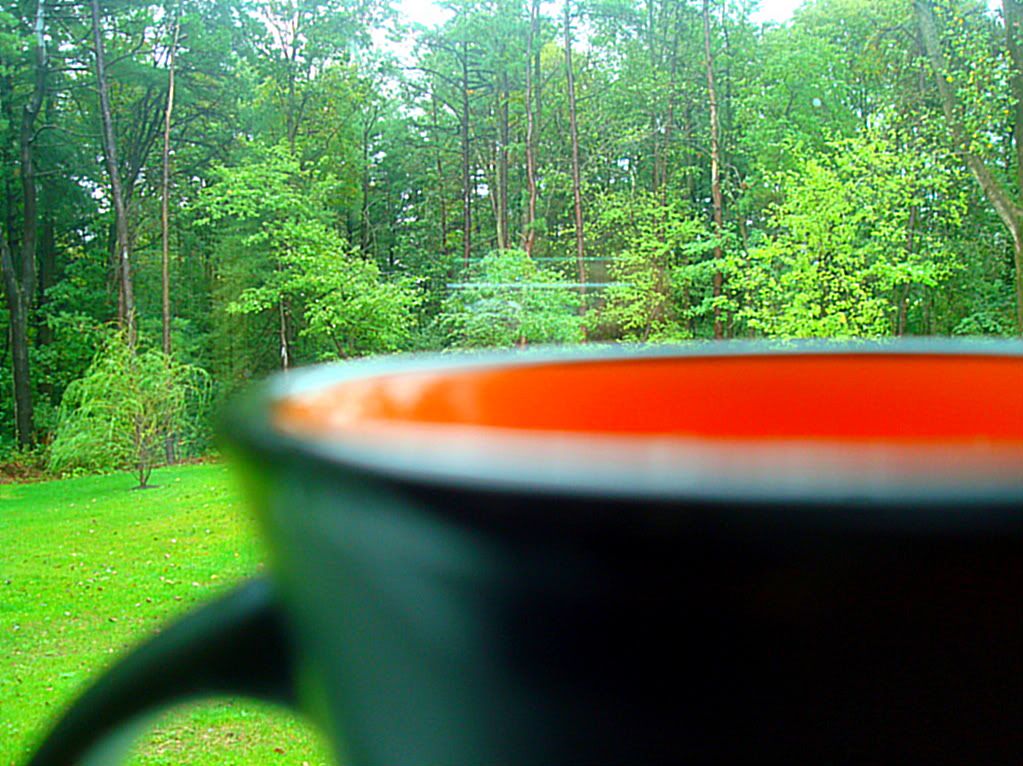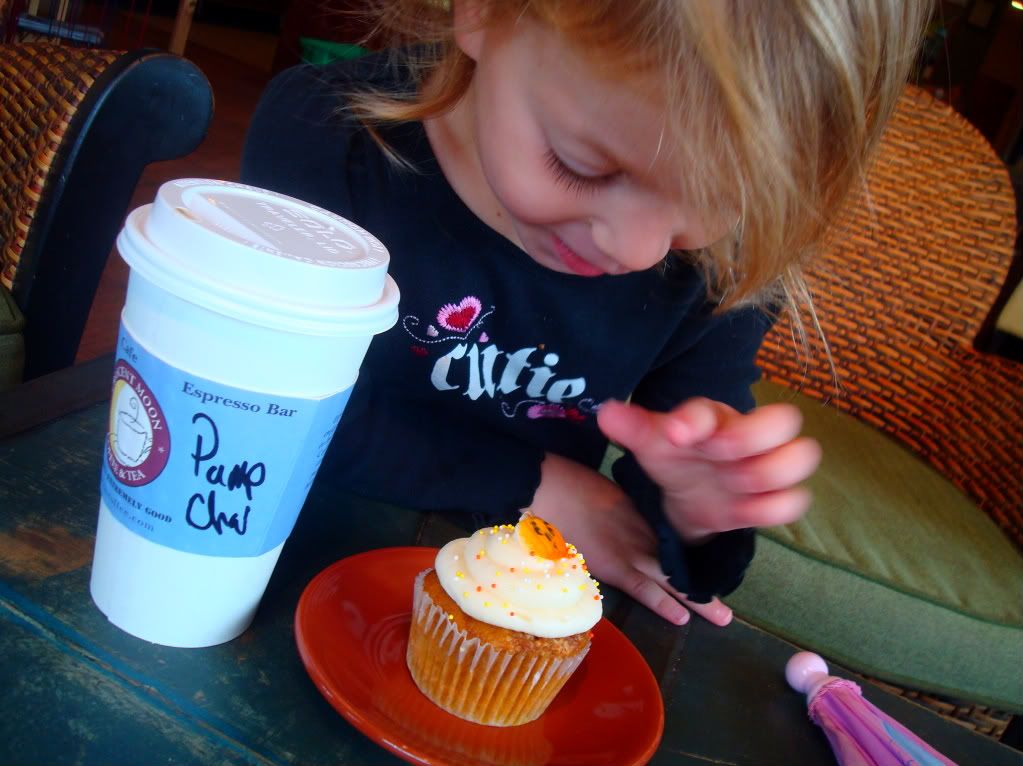 I'm loving this
Pumpkin Chai
. It is drinkable dessert and smells like liquid autumn in a to-go cup. Rella feels seasonal as well, selecting the pumpkin cupcakes adorned with cream cheese icing. Because I love to spoil her on our days alone, she eats this treat before lunch on the velour sofa of
The Crescent Moon
coffee house.
I love to pull out a pair of familiar jeans after months of cut off shorts. I love the colors orange, cranberry and chocolate brown. And there is nothing like a little warm apple cider al fresco.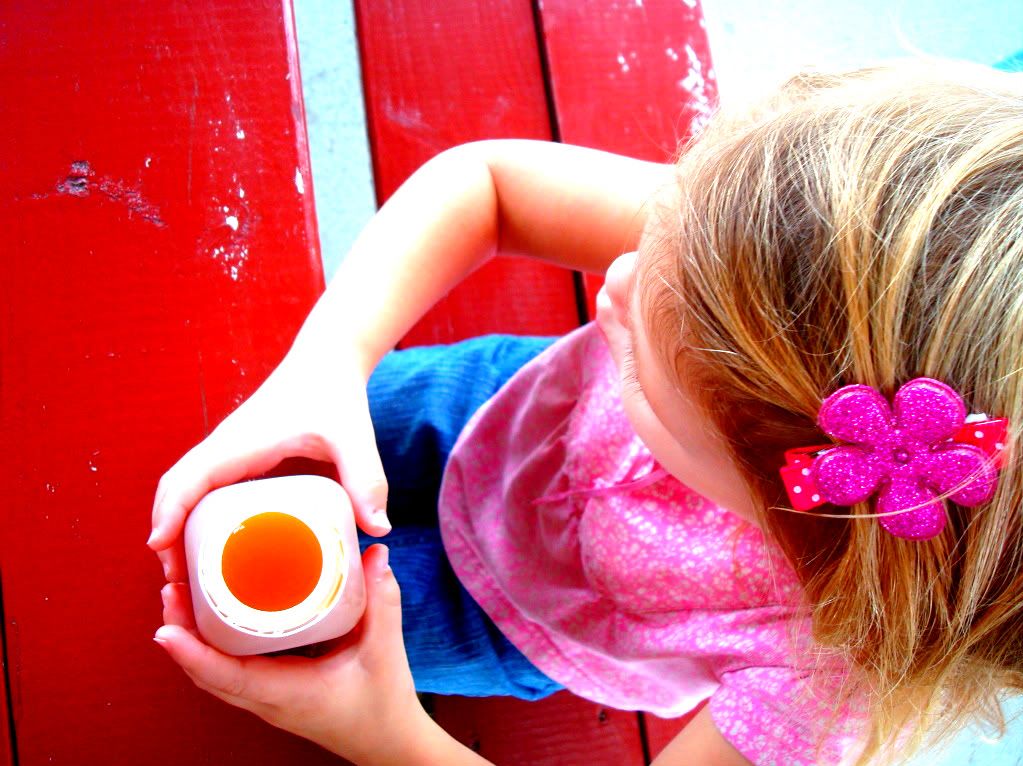 Fall is decending timidly in the suburbs of New Jersey. The days, for the most part, are still rather warm and the leaves have scarcely started turning. But today felt like the kick off of Fall. Hayrides, apple picking, and freshly made cider donuts always put one in the mood for autumn-ness.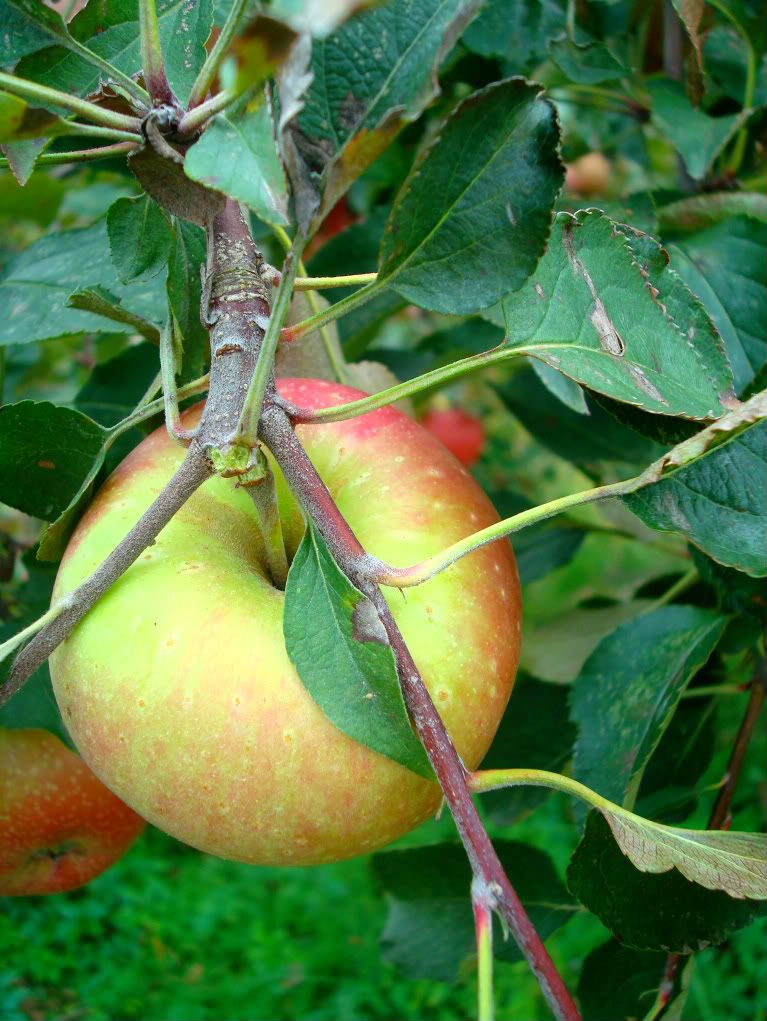 Rella and I went on our maiden hayride of the season. I sported a pair of
jeans
for the first time in months... and not just any jeans but my awesome, new
M'Chic jeans
that erradicate "Muffin Top" and slim the middle and rear. Yes, I was a ROCK STAR on this hayride! (Read my full review of the slimming
M'Chic
jeans
HERE
).
Another nice thing about this Fall? Two days a week with just me and Rella. Never has this little girl had one-on-one Mommy time with me. But now, I eat her up from head to toe every Tuesday and Thursday. We bask in each other's glory. We smile and meander through the hours with nothing and everything to do. I give her the undivided time that a fourth child seldom gets.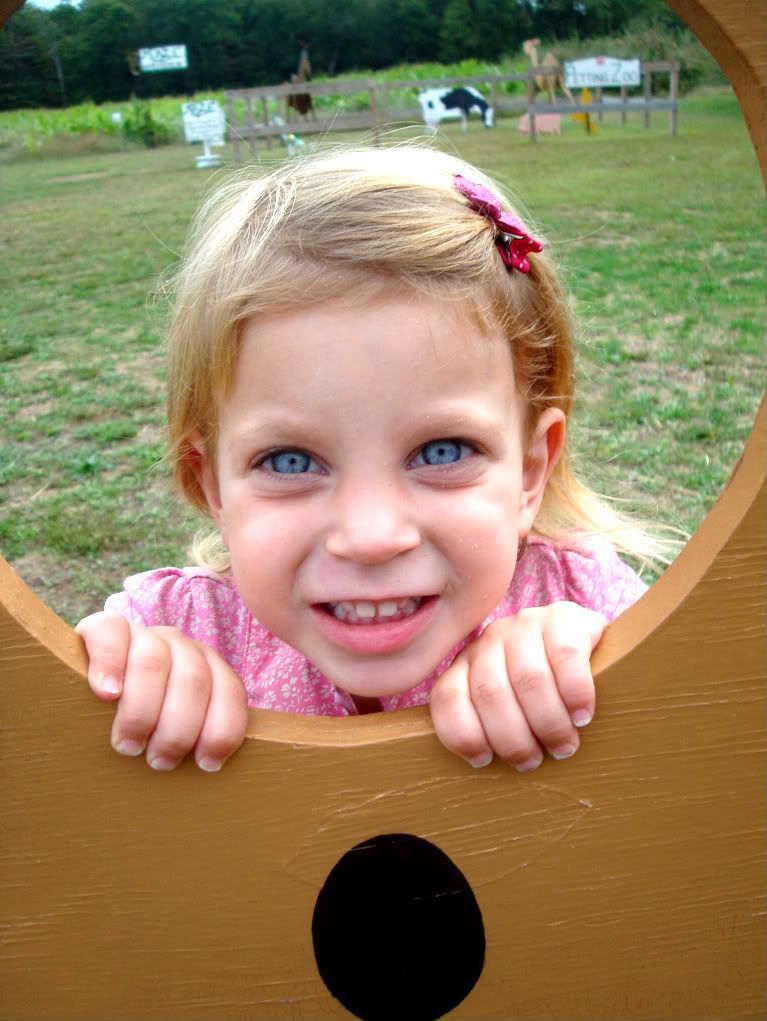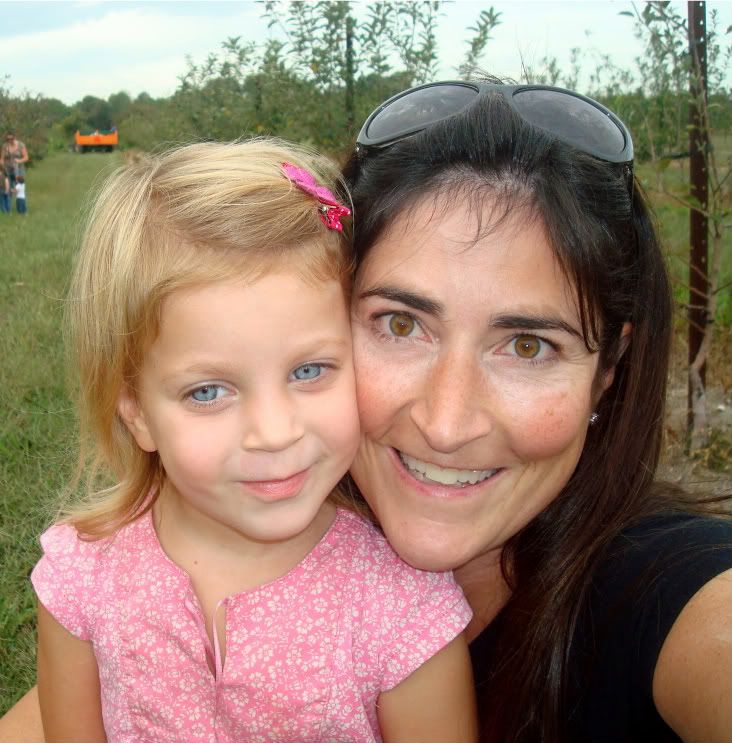 A glorious day to go apple picking with the apple of my eye.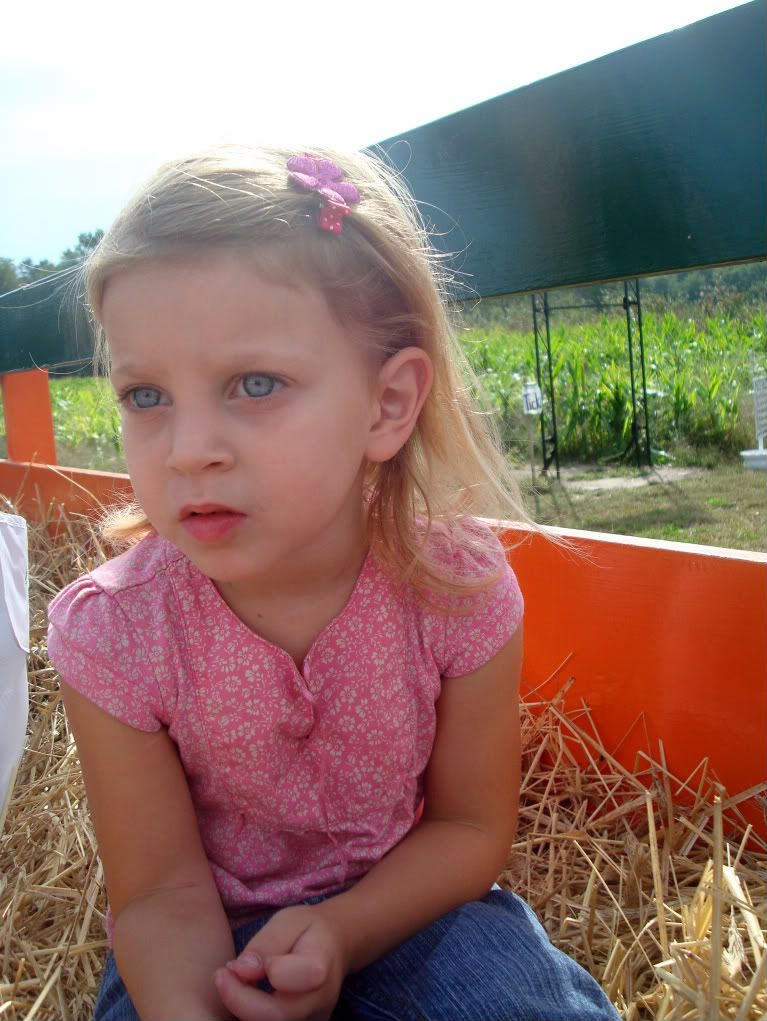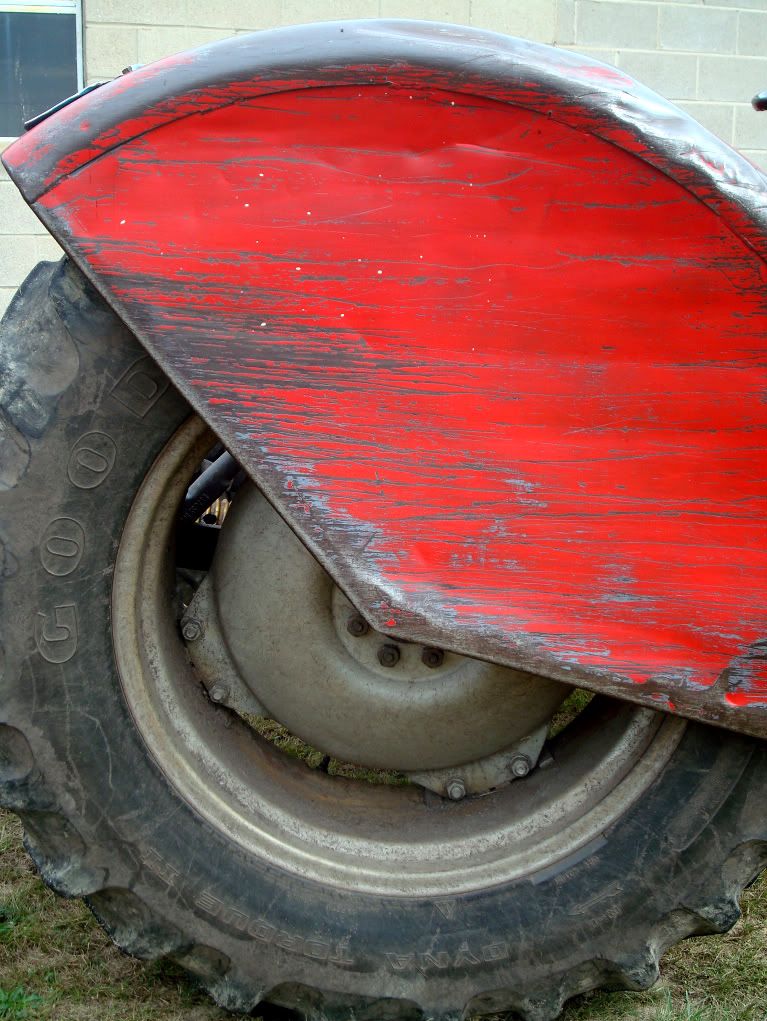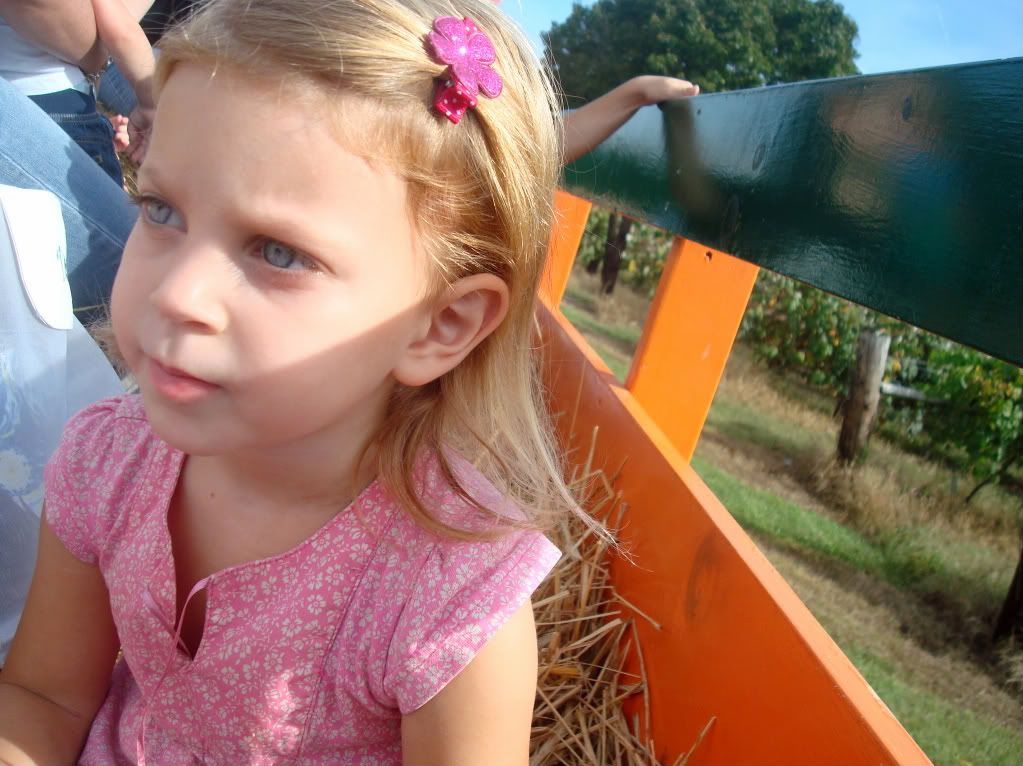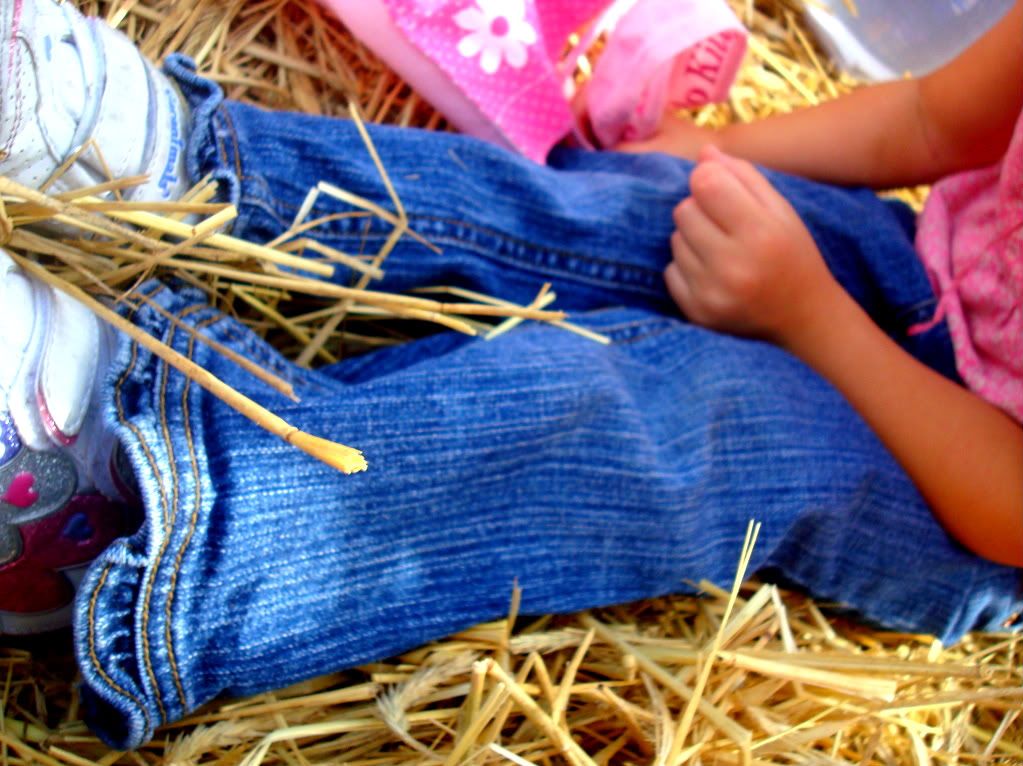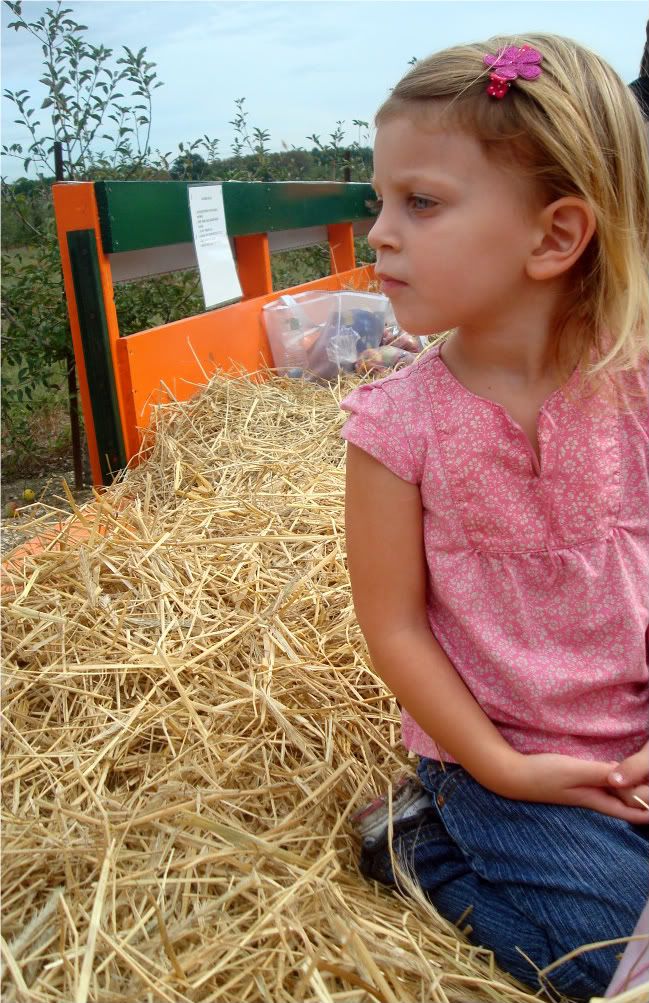 As soon as the weather turns from cool to frigid and we are chapped and bundled and hibernating I will dream of my summer days again. Until then, I will love the smells and sights and tastes of a seductive Fall. We'll enjoy every moment that our world is ablaze with the colors of earth's bountiful Harvest. It's a spectacular show, once a year, that holds the promise of plenty right before the impeding frost. Reminding us to take stock of what we have before the temperatures drop and the land becomes hard and fruitless. Reminding us that everything has a season, everything changes, and when we love each phase of the moon, each phase of our lives, happiness will follow. Happiness always stalks a grateful heart.
The seasonal fruits of the earth are right there for the picking. Savor every season. Savor every bite.