So first I'd like to say this.
Dear Parents,
If you have come clean to your fourth grader about Good Ole St. Nick and The Elf on the Shelf this year that's quite cool and all. I'm not here to argue against growing up. This is all part of life. But you might want to let them know that it's kinda important not to blab it to many of their friends who might NOT yet know yet - especially when Christmas is right around the corner and when someone's Mommy's might have actually wanted one, last Christmas where the full Christmas magic is in bloom before the innocence was shattered forever. Is that too much to ask Mommy to Mommy here? Is there a part where you swear them to secrecy or guilt them about not telling others? Or, do the kids just blab anyway even if their parents warn them not to?
Ya know, maybe it's not a biggie to some parents, Santa-Shmanta,whatever whatever... just another day and all part of growing up. I mean, I'm a dork - I actually get teary eyed when my children lose their first tooth and cry at the thought of waking up Christmas morning alone after my kids are grown and gone (true story, I actually cried big loser tears talking about it yesterday) and get UPSET that the magic of Christmas has to be lost for a 9 year old because some kids feel the need to show how cool and mature they are... but please... I know I'm on borrowed time here but can you throw me a bone people! I didn't get to do ANY of this with CB and I'm just eating it all up and it's going by way too fast. I'm not ready.
That's it. A very upsetting day in Mommy-Land. First Pink has "Santa Questions" (though she's only asking and cover has not been completely blown) and then baby Rella has 2 freaking loose teeth.
I'm seriously not ready for this.
Anyway, that's the end of that rant. Make ALL the fun you'd like.
Now, breathing deeeeep.... feeling the love, feeling the love.
So, yes. Christmas and all the Winter Holidays are not about Santa, of course. They are about love and giving and sharing and family. So, in that vein I wanted to select 12 things to do with the girls that were reflective of that. I knew there was no way I could do one of these "25 Acts of Kindness" things - that would just set me up for failure. Twelve may be pushing it, just because I can only think of 10, but 12 goes with The 12 Days of Christmas so I'm gonna have to "dig deep."
Here's my start:
1. Write some Holiday Cards for Heroes that will be distributed to active duty and wounded U.S. soldiers - DONE
2. Donate toys and volunteer at Santa's Workshop - DONE
3. Spread holiday cheer with the residents of a nursing home - DONE today!!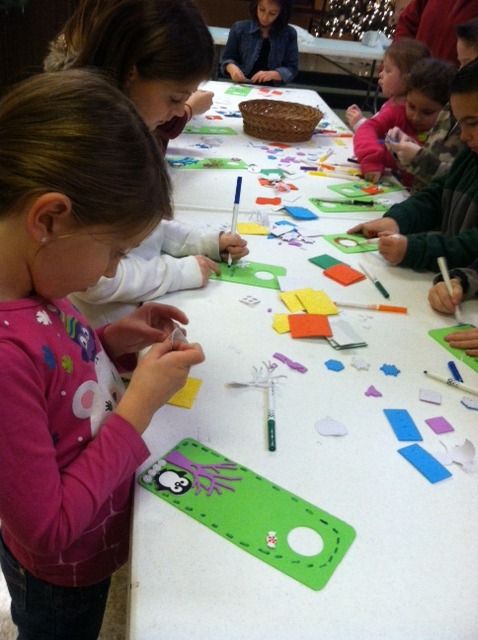 The girls and their Kids Philanthropy group decorated holiday door hangers and then distributed them to the residents. It's really cute to see them interact.
CB kept off to the side, but she's getting used to it there.
So, then I also have :
4. Donate books for the library's "New Book Drive"
5. Donate to our church's Food Pantry for holiday dinners
6. Sponsor a Child for a local holiday roller skating party - DONE
7. Write a Thank you note to someone special and tell them what you like about them
8. Go through old toys and games and donate
9. Sing in the Children's Christmas Choir for the Christmas Eve Mass - not me of course.
10. Volunteer to lay wreaths at each of the 1800 tombs at the Veterans Cemetery - Our whole family is actually volunteering to do this on Sunday morning!
And that's about where I lose my creativity. Any suggestions?